Can Toyota Trucks Keep Up with Ford Trucks? 
While you may still be left scratching your head about which pickup truck to buy, there's simply no replacement for Ford pickup trucks. This becomes especially apparent when you explore a Ford trucks vs. Toyota trucks comparison. When you check out our stock of Ford pickup trucks here at Woodhouse Ford of Blair, you'll understand why there's no need to look any further.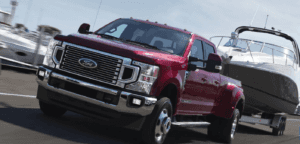 Ford F-150 Vs. Toyota Tacoma
When you compare the Ford-150 to the Toyota Tacoma, it becomes clear that there's simply no way for Toyota to keep up.
The Ford F-150 offers the highest towing capacity in its class, with a max tow rating of 14,000 lbs. thanks to an available 400-horsepower EcoBoost® V6 engine. Meanwhile, the Toyota Tacoma only offers up to 278 horsepower and can only tow up to 6,800 lbs.
The same story is true when it comes to max payload. The Toyota Tacoma only offers up to a 1,685 lbs. of max payload. The Ford F-150 again shines as the top truck in its class when it comes to max available payload, which comes out to 3,325 lbs.
Ford F-250 Vs. Toyota Tundra
As you move up in both Ford and Toyota's lines of pickup trucks, it becomes even clearer just how dominant Ford pickup trucks are. The Toyota Tundra offers a 381 horsepower and 401 lb-ft of torque V8 engine that allows the truck to tow up to 10,200 lbs. However, this doesn't even come close to the available 475 horsepower and 1,025 lb-ft of torque the Ford F-250 offers from an available 7.3-liter V8 powertrain.
The Toyota Tundra doesn't even come close to the available 22,800 lbs. towing capacity of the Ford F-250, which also offers an impressive 3,940 lbs. max payload. Meanwhile, the Toyota Tundra only offers an available 1,520 lbs. max payload.
When it comes to everything you want out of a rugged pickup truck, Ford trucks are always the clear winner. Visit our Ford dealership near Omaha today to explore our stock of Ford trucks up close and to go for a test drive.