Looking Back at Old Ford Truck Models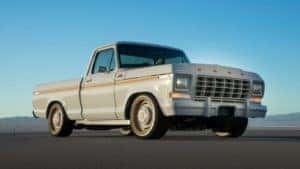 The Ford Motor Company has been producing vehicles for over a century. And in all that time, we've made a variety of different trucks that may be gone, but they're certainly not forgotten. Let's take a look back at three old Ford truck models.
Ford Lightning
Now, you may have heard about the brand-new Ford F-150 Lightning coming out soon, but you may not know there was another Ford Lighting about 25 years ago.
This performance truck had a 5.8-liter V8 engine under the hood that pumped out 240 horsepower. It also had fantastic handling and could really get moving – it could go from 0 to 60 mph in a little over seven seconds.
Ford F-100
The Ford F-150 is pretty much a household name, but did you know about the Ford F-100? This model debuted in 1953 – which was the first year that Ford put an automatic transmission into a pickup.
The F-100 had a wrap-around windshield and was incredibly powerful for the time period. It had a V8 engine that offered 130 horsepower, which increased to 180 horsepower by 1956, its final year in production.
Ford F-250 "Highboy"
While it wasn't given the Highboy moniker by Ford, this is what aficionados called this truck, which was in production from the mid-60s to the mid-70s. And if you see pictures, it's no surprise why it got that name; you could put 35-inch tires on this truck and wouldn't even have to lift the suspension.
While it came with a 6-cylinder engine, you could upgrade it to a V8. It also came with three driveshafts and a divorced transfer case.
Thanks for taking this trip down memory lane with us. If you've got an old truck that you're ready to part with, visit Woodhouse Ford of Blair to find the perfect replacement.