Used Ford Truck Updates and Accessories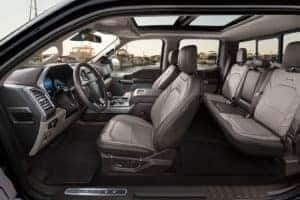 While you probably love your used Ford truck, there are always things you can do it to take it to the next level. Here are three accessories you may want to consider.
Tonneau Cover
One of the great things about any Ford truck is its expansive bed that lets you haul anything you need. The downside, however, is that anything you put in there is exposed to the elements. A tonneau cover is one solution.
In addition to protecting your cargo from precipitation, you can also ensure it's safe from prying eyes. Plus, these covers are lockable and generally easy to install.
All-Weather Floor Mats
It can be very easy to track things like dirt and mud into your truck, especially if you're heading off the beaten path. Fortunately, there's an easy way to keep your carpets clean: all-weather mats.
In addition to safeguarding the floors in the front, you can also get mats designed to fit in the backseat. So, whether they're work buddies or your kids, you know that any dirty shoes will be well-contained.
Console Organizer
If you drive a Ford F-150, you may enjoy the large storage bin in the center console. However, chances are good that all of the stuff you've thrown in there has created a bit of a mess.
Thankfully, you can do something about that with a console organizer. This will help you get your items in order so you'll be able to find what you need a lot faster.
Get the Parts You Need for Your Truck at Woodhouse Ford of Blair
How do you want to improve your truck? Whatever you need, you can get it through the parts department at Woodhouse Ford of Blair. Contact us for ordering information.