Why Choose Woodhouse Ford Dealers for Your Next Car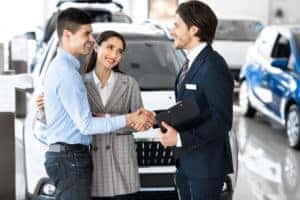 If you are looking for a car, there are many places in and around Blair, NE to get one. However, for an exceptional car-buying experience, you should only choose Woodhouse Ford.
We Have Many Vehicles to Pick From
At our Ford dealership, you will always find a large selection of new vehicles. We still have quite a few 2021 models, and we already have some 2022 vehicles in stock or available for order.
We also carry a variety of used cars, and not just from Ford; we typically have a variety of makes and models. In addition, we have Certified Pre-Owned vehicles, which have to pass a thorough inspection and come with warranty coverage.
We'll Take Care of Your Car
We don't just sell vehicles at Woodhouse Ford, we also service them. Whether you bought your car from us or not, we will make sure it stays in excellent condition.
We can put it on a service schedule so you will always be reminded when certain tasks are due. We also have a parts department that can get you any components or accessories you may be looking for.
We Offer Outstanding Service
Did you know that we have been in business for almost 50 years? One of the reasons why we've been able to make it that long is because of the customer service we offer.
We always go above and beyond for our customers. We don't just want to sell you a car, we want to create a lifetime relationship.
To see how the car-buying experience should be, come down to our Ford dealership to talk to one of our friendly and knowledgeable dealers.